Deviled Eggs
can be so versatile and yummy!
Entertaining with Southern Deviled Eggs
can make any event special...
from a Classic Devilled Egg to an extra
special, fancy treat with Lobster and Caviar,
served with champagne or wine.
The possibilities are endless,
and no Southerner would be without them
for any occasion, large or small.
...From Classic Deviled Eggs...
On a pretty Egg Plate (of course!)
...An Antique Dresden Egg Plate...
http://www.ebay.com/sch/sis.html?_nkw=Dresden+Porcelain+Franziska+Hirsch+Antique+Deviled+Egg+Plate&_itemId=330875850129&_trksid=p2047675.m4099
...A Festive Fiesta Egg Plate...
...A Unique Half-plate for 6 Eggs...
At our house, we have several
little "Eggheads"
that just have to have
some of Mom's Deviled Eggs
for any, and all, occasions...
This Easter Buffet Table featured an all
$$Dollar Store$$ Setup complete w/Egg Tray
and Easter Decorations...
You really can make a Cute Holiday Table
for
very little $$$
CLASSIC DEVILED EGGS RECIPE
6 Boiled Eggs 1/4 cup Mayonnaise
1 tbsp Sweet Pickle Relish
2 tsp Mustard
Salt and pepper to taste
Smoky Paprika
Directions
1

Cut eggs lengthwise in half. Slip out yolks and mash with fork.

2

Stir in mayonnaise, mustard, relish, salt and pepper. Fill whites with egg yolk mixture,

heaping it lightly. Sprinkle Smoky Paprika on top.

Cover and refrigerate up to 24 hours.
...More Egg Plates & Presentation Ideas...
http://www.plainchicken.com/2013/06/patriotic-deviled-eggs.html#_a5y_p=1866498
...Adorable! Vintage Oval Egg Plate with
Chicken Salt & Pepper...
https://www.etsy.com/listing/65152408/hard-boiled-eggs-blue-serving-platter
...Arthur Court Bunny Deviled Egg Plate...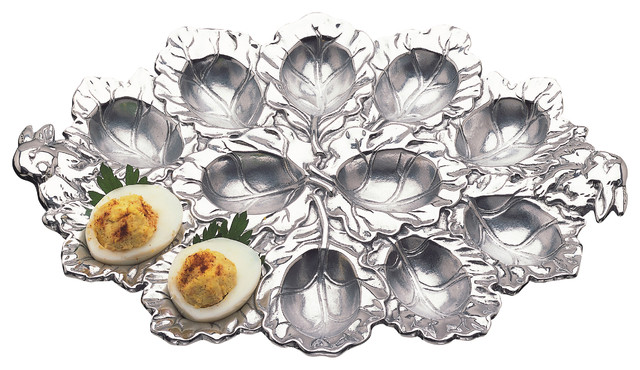 ...Arthur Court Grape Deviled Egg Plate...
Designed by Mr. Juan Vela, Belle Mont offers the classical essence of Queen Anne and the formal elegance of Flutes & Pearls. This six piece collection includes various shapes and sculptural surfaces...including the Beautiful Egg Plate!
http://www.armetale.com/collections/belle-mont.html
I guess by now you get the idea...
I just have be on the look-out for
the cutest Egg Plates,
when I'm out Antiquing!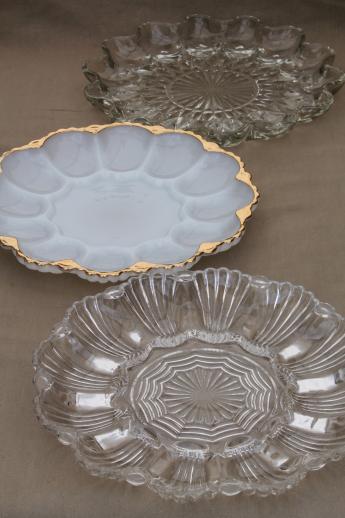 ... Whatever the Occasion is...
SNACKS & NIBBLES
http://www.lacrema.com/sriracha-deviled-eggs-crumbled-bacon/?pp=0
Sriracha Deviled Eggs with Crumbled Bacon
Ingredients:
½ dozen large eggs
3 – 4 tablespoons mayonnaise
½ tablespoon Sriracha sauce
1⁄4 cup chopped chives
1 teaspoons curry powder
2 strips bacon, cooked and crumbled
PARTY BUFFET ENTERTAINING
http://bcommebon.canalblog.com/archives/2008/03/23/8430825.html
SUMMERTIME PICNICS
This is an EGGSELLENT Idea for Picnic
Deviled Eggs in Cupcake Wrappers for
Easy Eating!
https://bigeatstinykitchen.com/2014/07/07/picnic-perfect-herby-deviled-eggs/
https://homeiswheretheboatis.net/2014/04/10/veggie-medley-deviled-eggs/?crlt.pid=camp.ZdAydxDOaUtU
TAILGATING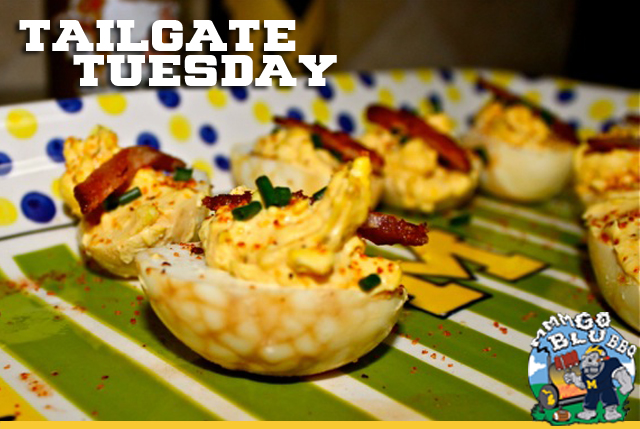 http://maizeandgoblue.com/wp-content/uploads/2015/11/Tailgate-Tuesday_Week10.jpg
...Family or Church Gatherings...
Even the Restaurants do it!
Lobster Deviled Eggs Recipe
...from our friends at Coastal Living...
Ingredients
12 hard-cooked extra-large eggs, peeled
1 tablespoon fresh lemon juice
1 1/2 teaspoons Dijon mustard
1/2 teaspoon freshly ground black pepper
1/8 teaspoon ground red pepper
1 cup coarsely chopped cooked lobster
Preparation
1. Cut eggs in half lengthwise. Place yolks in a medium bowl; place whites on a serving platter. Mash yolks with a fork until crumbly. Add mayonnaise and next 5 ingredients; beat at medium speed with a mixer until smooth. Gently stir in lobster.
2. Spoon filling into whites. Sprinkle tops with smoked paprika and fresh chives. Cover and chill until ready to serve.
This is a beautiful presentation from Art de Fete
Deviled Eggs with Herbs, Salmon & Osetra Caviar
Deviled Eggs with Herbs, Salmon & Osetra Caviar
Ingredients:
12 hard-boiled eggs, peeled
¼ cup mayonnaise
¼ cup sour cream
1 teaspoon Dijon mustard
Squeeze of lemon juice
2 teaspoons flat-leaf parsley, chopped
2 teaspoons chives, chopped
1 teaspoon tarragon, chopped
1 teaspoon dill, chopped
¼ cup smoked salmon, chopped
Sea salt and freshly ground white pepper
GARNISH
Chives, finely chopped
12 dill sprigs
1 oz. Osetra caviar
...Yummy Bacon Jalapeno Deviled Eggs...
http://realhousemoms.com/bacon-jalapeno-deviled-eggs/
The traditional deviled egg goes upscale with the addition of shrimp and bacon... so tasty!
For more ideas (and more!) get this great book
For all the times when you need a quick, inexpensive
snack, party appetizer, remember that Deviled Eggs
are so versatile and yummy!
You can join me on my "DEVILED EGGS"
Margie